Guest

Guest

on Sat Aug 29, 2015 11:17 am
| | |
| --- | --- |
| | UPLOADING AN IMAGE:  SERVIMG |
Uploading an image can be done through various sites, but this tutorial will cover one service, specifically:
www.servimg.com  

Step One:
First, go to the editor on any FM forum and look for the image uplaoding button and select it.  A small pop-up will show: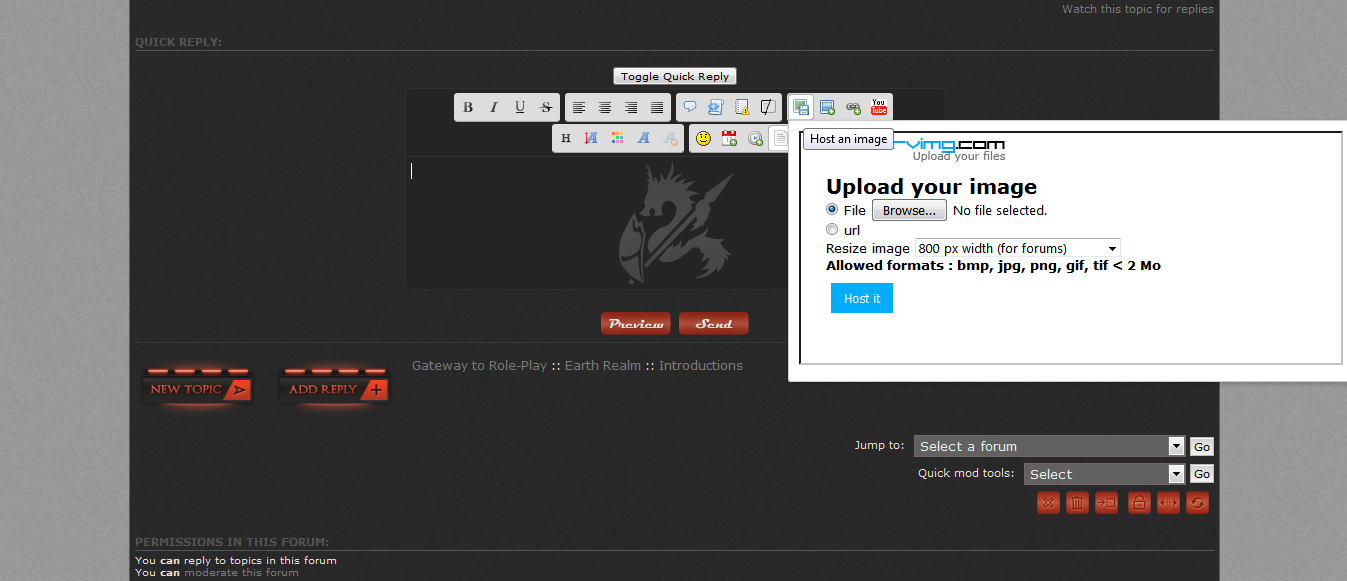 As you can see in the sample above, there are three fields to customize.  The first field is the file field and this field is used when you are uploading a picture from your computer.  Click the "Browse" button and find the image that you wish to upload from your computer and open it.  After opening it, the name of the image file should appear on next to the browse button:



If you aren't uploading an image from your computer and are instead uploading it from another website, you can select the "URL" option, instead.  This will open up a field where you can type in the url of where your image is currently located.

Step Two:
Now that you have your image entered, either via a URL or through browsing a file in your computer, it is time to use the third field for image re-sizing.  Simply select the drop down menu and find the size that you'd like it to be resized to or choose the option "no" to keep the size as it is.



Step Three:
Select the "Host It" button!  After this is complete, your image is now uploaded and three different links are posted for your use:  The first for thumbnails, the second to post it as an image, and the third as just the raw url to add into any code that you may or may not need.

Just copy your code or url and then paste it where you need it and you've successfully uploaded an image for any reason that you may need it.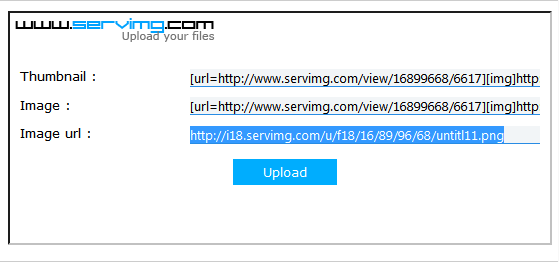 on Sat Aug 29, 2015 12:29 pm
Message reputation : 100% (1 vote)

Permissions in this forum:
You
cannot
reply to topics in this forum